Rover P5B 3.5 litre V8 Saloon 1972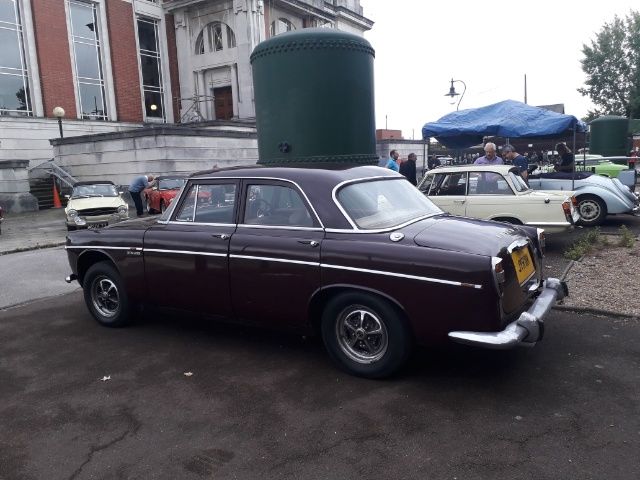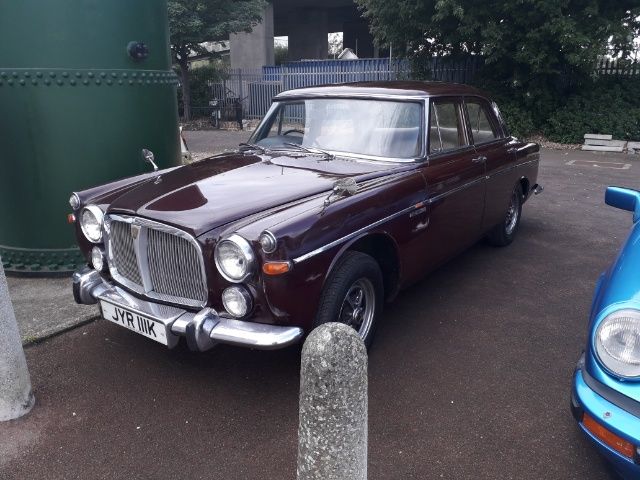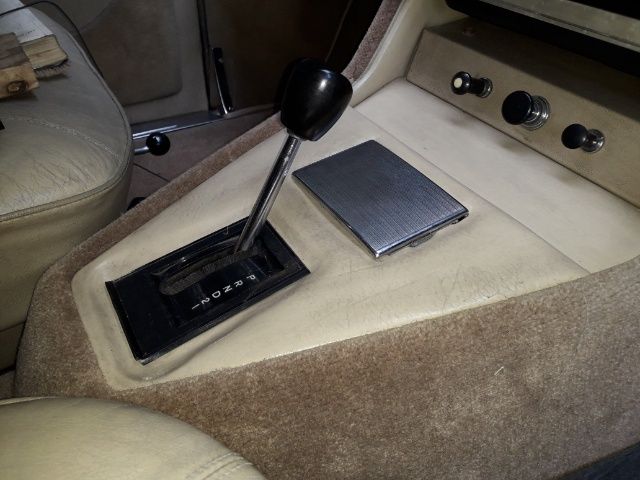 Things done so far
Stripped and varnished all the woodwork with Ronseal.
Leather painted with Woolies kits and vinyl trim very good.
Carpets new. Gearbox cover carpet fitted professionally.
Headlining original and in good state.
Gearbox inhibitor switch replaced and adjusted but remained unreliable for some time so a semi-hidden bypass switch was fitted for emergencies. The problem with it has gone away now that the gear selector lever has been removed and refurbished within the last few months.
New boot rubber mat and trim panels renewed or good originals.
New petrol sender.
Carburettors refurbished.
Fuel pump refurbished.
Repeater lights all replaced.
Interior lights rechromed and working.
AED refurbished. This sorted the fueling problems but a Tecalemit solenoid switch was fitted to bypass the AED as an intermediate solution c. 20 years ago, so although this is still fitted, it is now disconnected.
Passenger front seat stitched professionally.
New rockers and camshafts c. 2005 when the hydraulic tappets were cleaned out.
New front brake calipers and rear shoes within the last year.
Under-bonnet blanket replaced. Bonnet springs replaced.
New front and rear windscreen seals fitted professionally (£2k in 2016) when the roof was resprayed. The door window seals were replaced at the same time.
Alternator and brake servo refurbished c. 2003.
Speedo repaired professionally.
Power steering servo refurbished professionally c. 1995.
Front headrests and JRW fitting brackets included but not fitted.
Inertia reel seat belts rewebbed and refurbished by Quickfit.
New starter motor. The old one was replaced with the smaller P6B type which is much easier to remove and refit.
Lots of little repairs and replacement jobs to trim items, radio buttons, welding and paintwork, wiring, ignition, hoses, rear springs, etc.
Full toolkit present.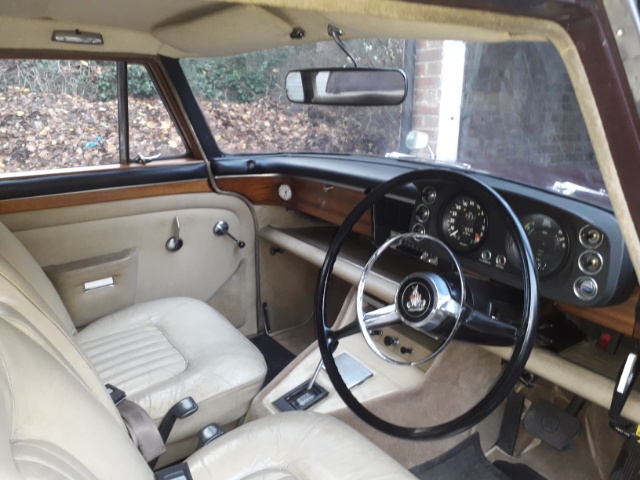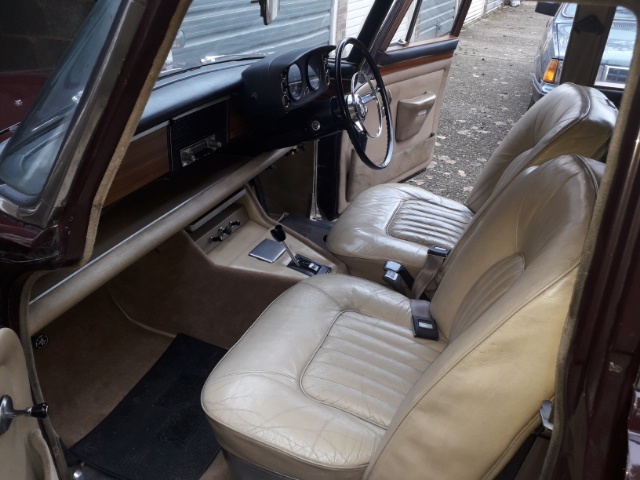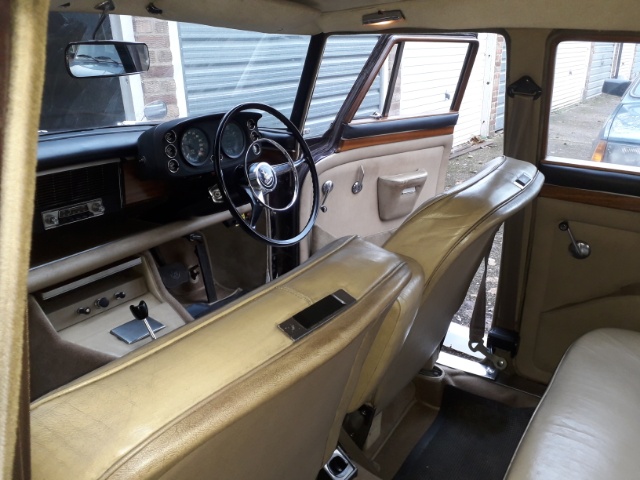 Things that might need doing
The car has not been converted to unleaded petrol so ideally the owner needs to use the Castrol Valvemaster or Millers VSP additives which are absolutely fine for moderate mileages and much cheaper than a hardened valve seat conversion!
The gearbox has a slow leak. Just needs a top up with a bit of ATF every so often.
There is some rust in the door bottoms and the doors themselves would benefit from new seals.
The thread for the oil filter has a curious issue which means that the aftermarket replacements often do not fit, but some do so you might be lucky, or you can fit a metric one from an Iveco Daily or Fiat Ducato ( Comline EOF228 ) instead, with absolutely no problems.
The external chrome on the bumpers, boot lid and wheels, etc, is in fair-to-fairly-good condition but someone might want these rechromed at some stage, although it looks OK from a reasonable distance.
Maybe a new boot seal.
The boot lock works but age and wear mean that its not secure enough to leave anything valuable inside.
Needs the red pips above the front sidelights, if you like them.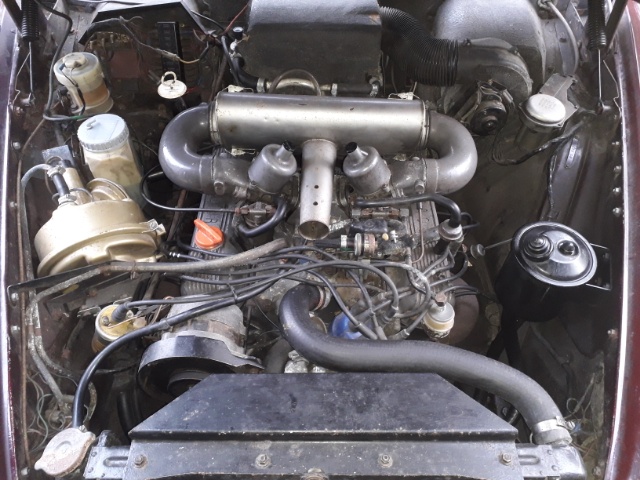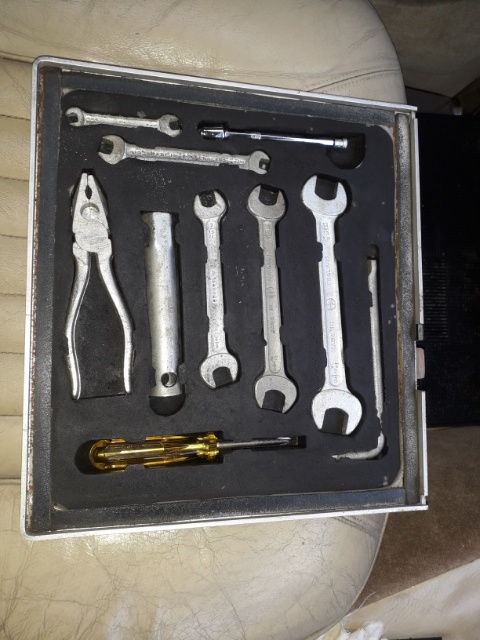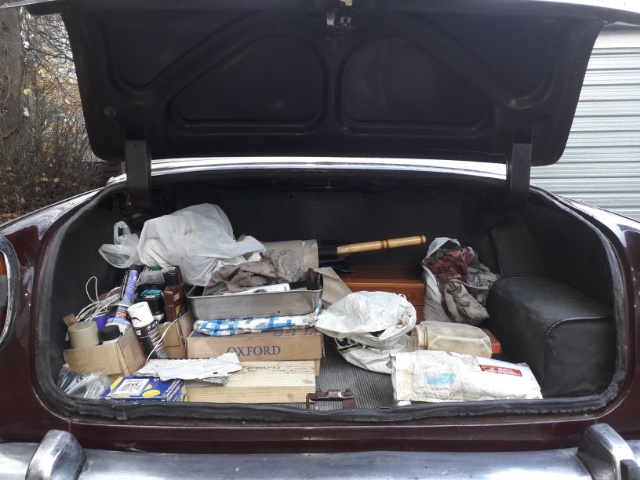 General condition
Paintwork and under-body panels seem in good condition following an earlier restoration by the previous owner c. 1993 and the car has been garaged and looked after since then and with a low mileage.
Interior in generally great condition. Locks and windows all working.
Driving and brakes all good.
Bills from 30 years of ownership. A lot of the previous history is present, too, e.g. bill for a new gearbox and torque converter fitted in 1982 by the 3rd owner (a lady in Sidcup) who acquired the car in 1979. The car had done 61k miles by 1976 and I acquired it as the 5th owner in 1993 when its mileage was 68k. The first owner was a highly respected vicar and amateur horse-racer, the Reverend Dr J. B. Bellend (DPhil Theo, Cantab) who sadly passed away following a stable incident in the US (joke). The current mileage is 71k.
D-posts and door bottoms (the crunch)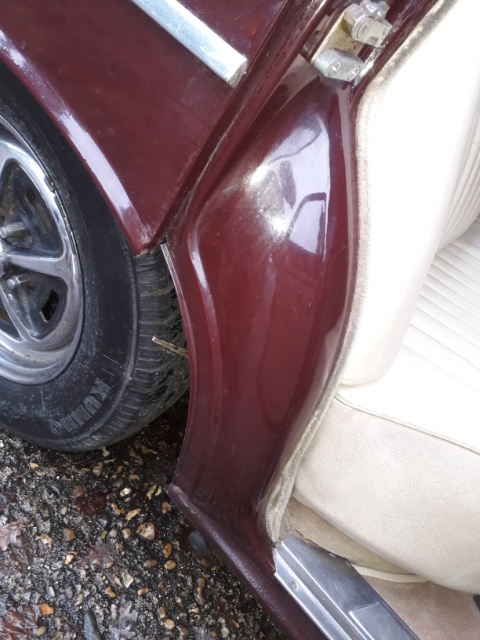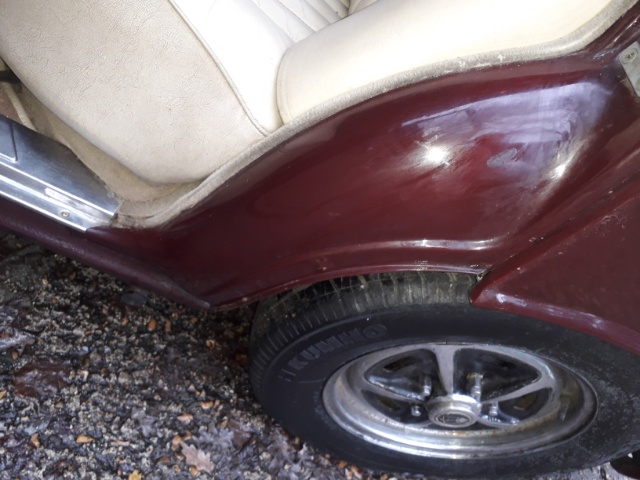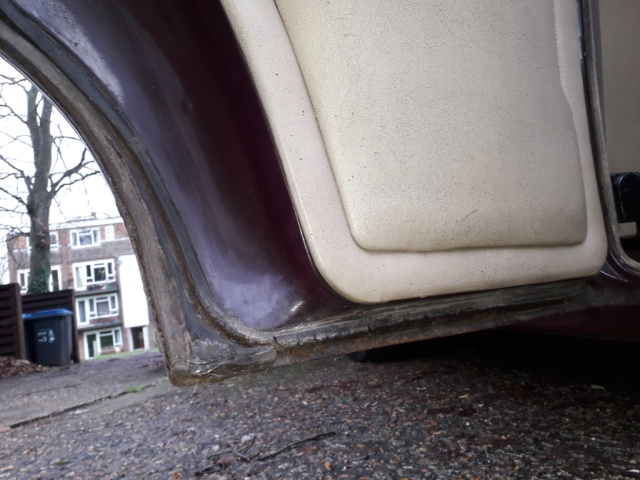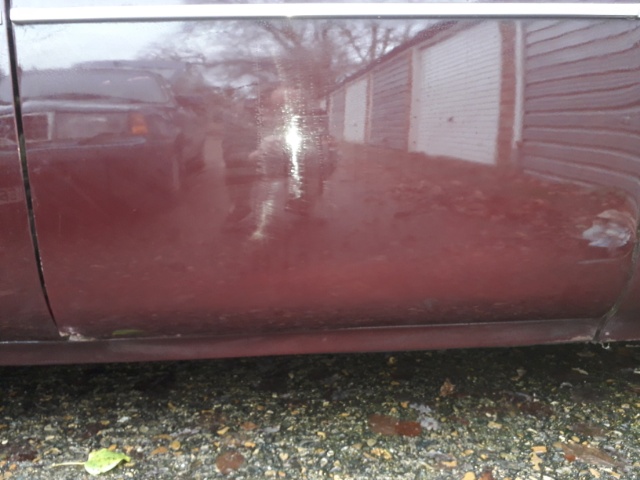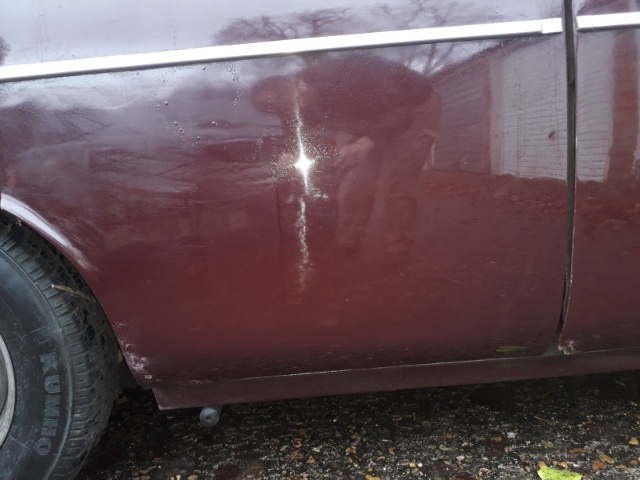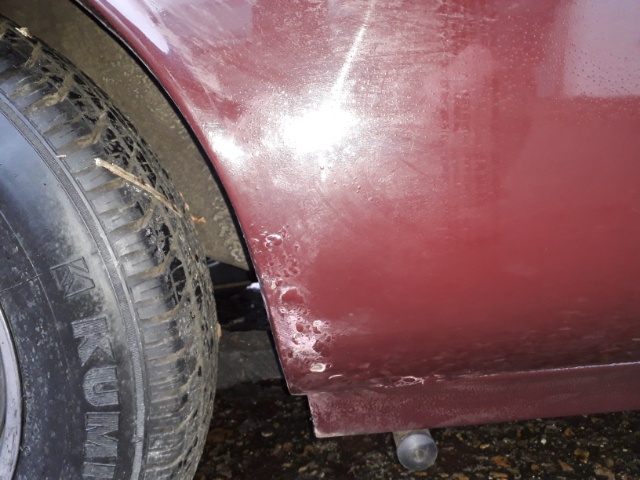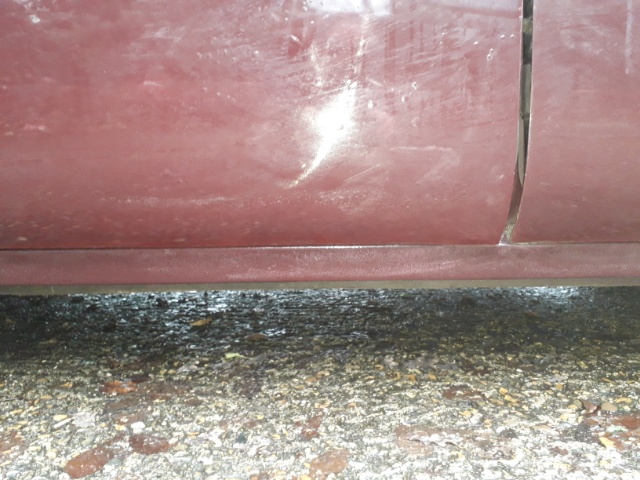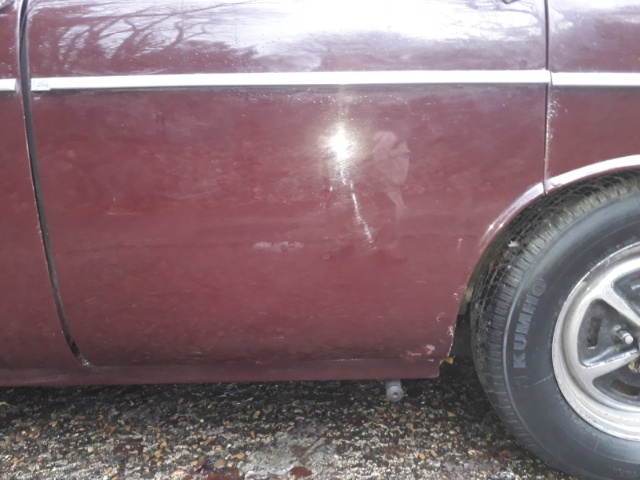 Ready to show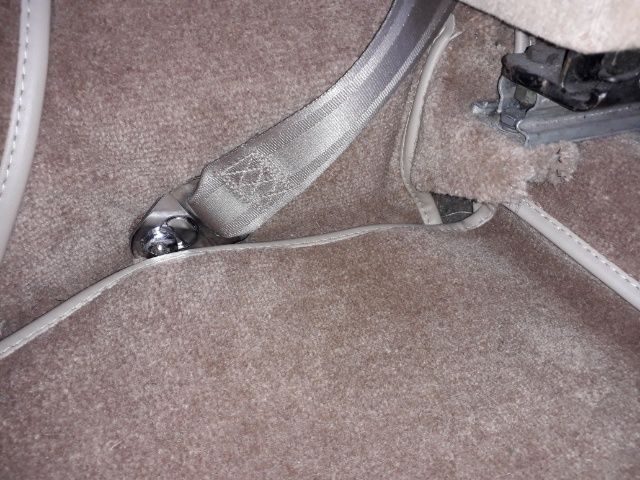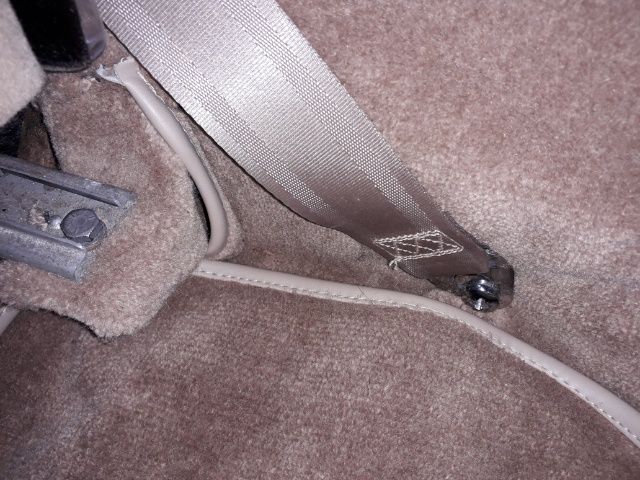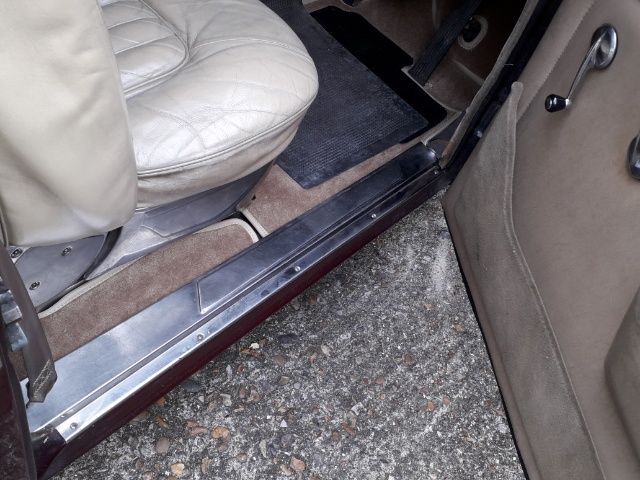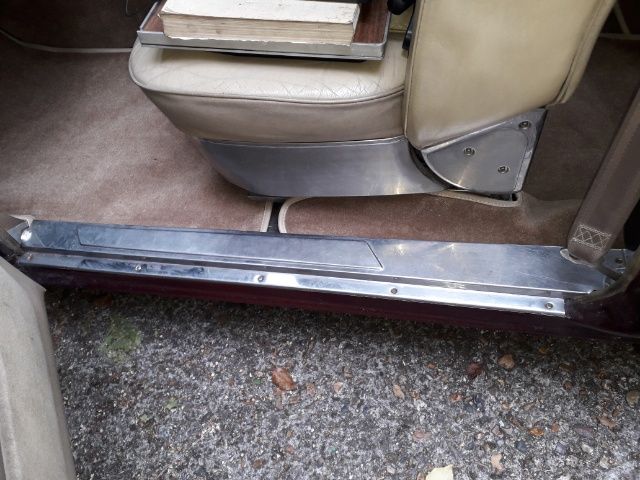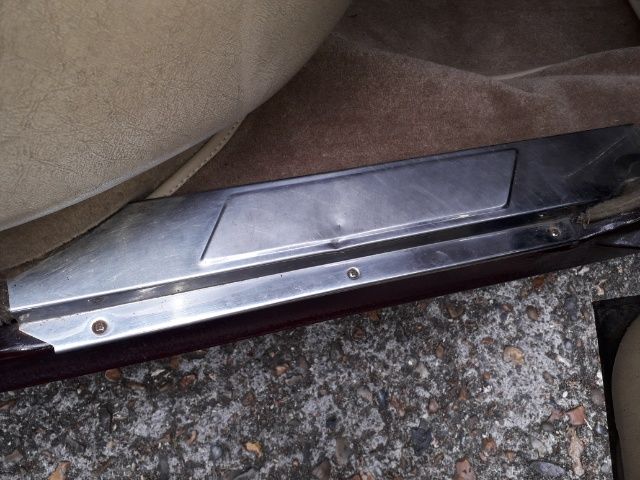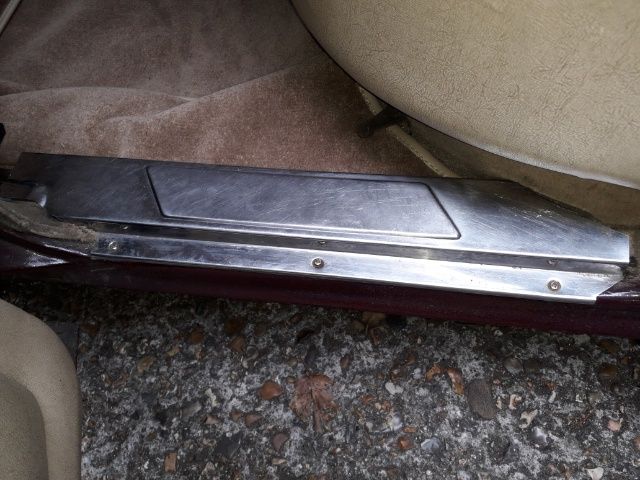 Spare parts available
All good used unless otherwise stated.
2 new distributor caps
new thermostat
heater blower and heater box with tap
battery cover
door locks and handles
servo
two manifolds each with both carbs
new Champion plugs
rocker covers
steering column cover
two AED's
alternator
fan
caliper
dashboard
new ignition leads
dials, clocks, etc
lights
BW35 automatic gearbox (reported working when removed)
speedometer angle drive
front headrests painted with Woolies kit to match the seats, but not fitted
new JRW brackets for fitting the headrests
windscreen
two new oil filters
air filter box
dozens of other small bits and pieces amongst these parts (see below), some used, some NOS.